Volunteering: The Happiness Effect
Many fun opportunities (for the whole family) to help out on Saturday, 6/23. Learn more here.
Saturday, June 23, is our annual Rachel Carson Trail Challenge. Consider volunteering! Time constraints? Know that you can volunteer as early as 6:00 a.m. or pop over later in the day (afternoon or early evening works, too). Help out as an individual (meet new people) or bring your family (get your kid off the X-box for an afternoon). 
How do I sign up to volunteer? Go to our Registration page, and then click on the Volunteer button.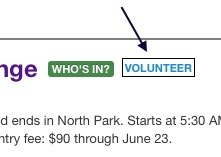 Questions related to volunteering? Ask Donna Stolz
    
The mental health benefits of volunteering are covered nicely in this article: https://www.helpguide.org/articles/healthy-living/volunteering-and-its-surprising-benefits.htm